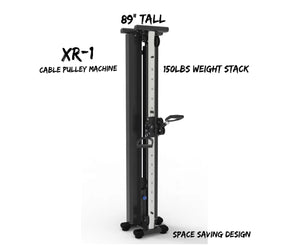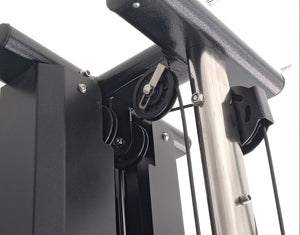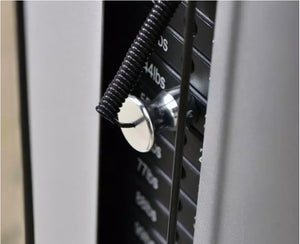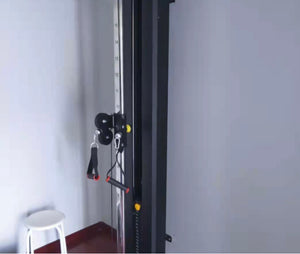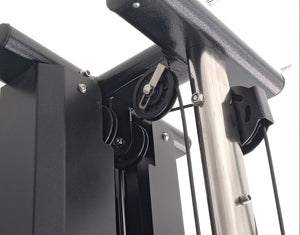 Excore Fitness™ XR-1 Lat Pull Down Machine
ASK ABOUT OUR IN STORE PICK-UP DISCOUNT!
Excore  Fitness™  XR-1 Lat Pull Down Machine
Lat Pull Down Machine
Lat Pull Down Machine/Adjustable Dual Pulley Cable Station is a versatile space saver with an abundance of potential cable exercises for both home and commercial users. Unlike similar units that use plastic bushings and hollow metal tubes for carriage systems, the XR-1 Adjustable Dual Pulley Cable Station is constructed of 4 linear "Steel" bearings providing a nonresistant gliding motion you will appreciate up solid steel rods.
The mounting also sets this unit apart from competitors. Both the top and the bottom of the cable station mount to your wall. "What does this mean to you?" If you do not have a low mount the cable station can pull away from the wall when conducting low pulley movements with moderate weight over time.
This pulling can damage the wall around an upper mount. With our XR-1 Cable Station, you have a high and low mounting that secures the unit allowing for full usage top to bottom. If desired there is even floor mounting available.
With 15 vertical positions, and commercial construction, you will be able to maximize your cable workouts for a complete health club experience right in your home or personal training studio.
Featuring a 150 lb weight stack with dual pulleys with a 2 to 1 ratio with 15 slide up and down positions. 
The Dual cables can be used one or two pulleys at a time and do a variety of exercises.
Warranty: 10 Years on Frame - 3 years on pulley and cables.
Exercises you can do on the XR-1:
-Lat pull down
-Bent rows
-Biceps curls
-Triceps push down
-Lateral  one arm and two arm raises
-Dead Lift
-Cable Crossover
-Shoulder Press
-Leg Curls
-Leg Extensions
-Shoulder Shrugs
and MORE