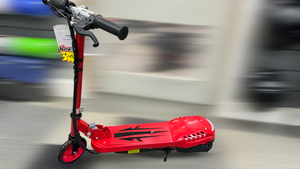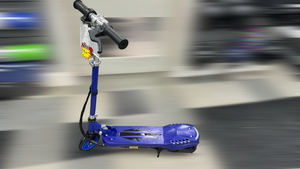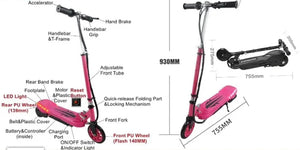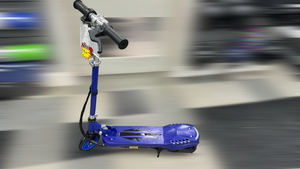 Stealth ZoomRider Foldable Electric Scooter for Kids
Stealth ZoomRider Foldable Electric Scooter for Kids
Introducing the Stealth ZoomRider Foldable Electric Scooter, designed specifically for adventurous kids aged 7 to 11! This sleek and stylish scooter is packed with features to provide a thrilling and safe riding experience. 


Equipped with a powerful 24-volt 4.5Ah battery, boasting 120 watts of electric power, the ZoomRider offers an impressive range of 6 miles on a single charge. With a maximum speed of 7 miles per hour, young riders can enjoy a fun and exhilarating ride while maintaining control and safety.

Safety is a top priority, and the ZoomRider is designed to accommodate riders up to 125 lbs, ensuring stability and balance. Weighing in at just 22 lbs, this scooter strikes the perfect balance between durability and maneuverability.

Charging the ZoomRider is a breeze, with a charging time of 5-8 hours for the reliable lead-acid battery. Whether it's a quick charge overnight or during downtime, your child will be back on the road in no time.

Available in vibrant red or cool blue, the Stealth ZoomRider Electric Scooter lets your child ride in style, turning heads wherever they go. With its sleek design and cutting-edge features, the ZoomRider is the perfect ride for young adventurers seeking excitement and freedom. Get ready to explore the neighborhood, parks, and beyond with the Stealth ZoomRider Electric Scooter.