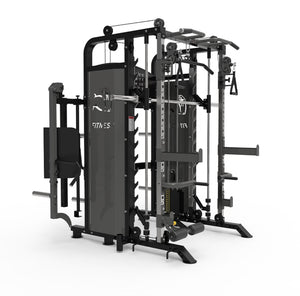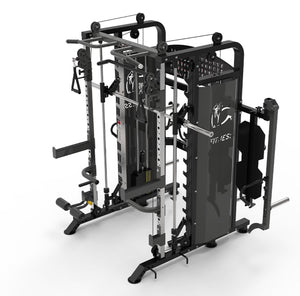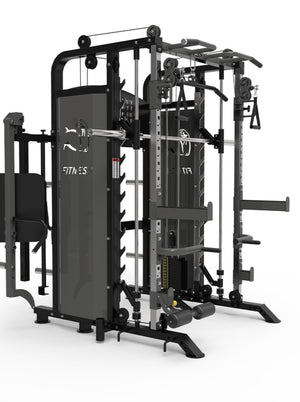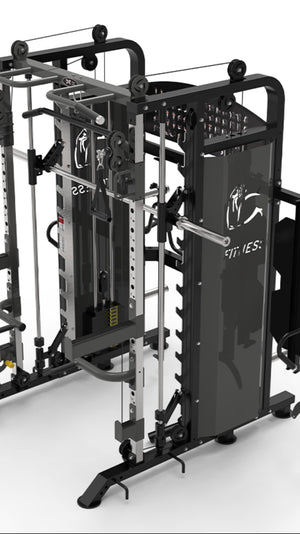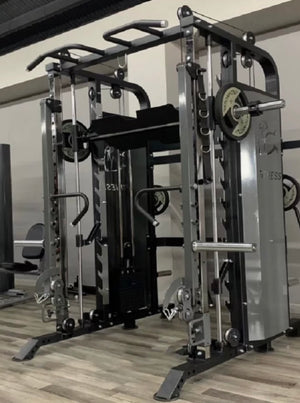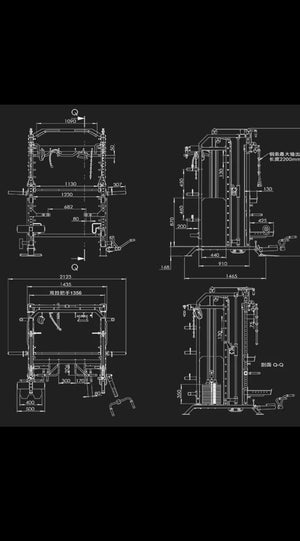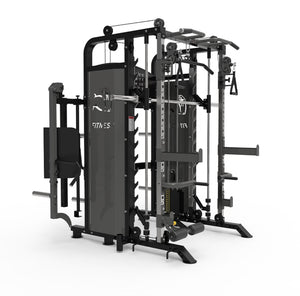 New! ExCore Fitness ™ Model XR20 New 2023 Edition w/Jammer Bars
BACK IN STOCK!
New! ExCore Fitness ™ Model XR20 New 2023 Edition w/Jammer Bars Black and Gray
WEIGHT STACK: 480 LB TOTAL 
NEW: the Jammer Arm system transforms this machine and will transform your training program to a new level.

NEW: the increased height of the weight stack shrouds/sheilds for added protection and visual appearance.

NEW: 'Track Your Workout' board allows you to record PB's, Reps, Sets or anything else.

NEW: Extra-positions for resistance band pegs.

Two precision cut steel 100kg pin select weight stacks.

Two weight stack 'horns' for extra weight plate loading.

Commercial Smith Machine with linier bearings.

Heavy Duty Power Rack.

Commercial grade J Hooks and Spotting/safety arm.

Extreme Core Trainer (Fits Olympic and Regular size bars).

Five-way multi Grip Chin Up Bar.

Adjustable/removable dipping handles.

Weight Bar Storage Holders.

Weight Plate Storage Rods.

Attachment Storage Holders.

Rubber band resistance/assistance pegs.

Fixing ring etc.

Includes 13 bars, handles and harness attachments.

Compact footprint: 1865mm (width) x 1660mm (Depth) x 2160mm (height).

The Leg Press plate is included at no extra cost on this version.
ExCore Fitness ™ XR20 Smith Machine/Functional Trainer in more detail.
Cross over pulley/cable system,has 2 x 100kg precision cut steel weight stacks with 5kg increments, Commercial Grade aircraft cable (rated 1000kg) and pop pin for quick and easy weight selection. Fitted with full commercial grade pulleys with sealed bearings for a smooth motion.
Commercial Smith Machine, superior design and engineering ensure a safer and more natural range of movement when the body is in action. We only use the best 25mm self-aligning linear bearings. Also stainless steel safety pins, hardened chrome finish for all main moving ware parts and 8mm super strong stainless steel carabiners. The Smith Machine bar has an increased 35mm diameter improving the weight rating by an extra 100kgs. To allow you to work to your max the ExCore Fitness XR20 Smith machine has rubber resistance/assistance band pegs positioned and extending out along the front foot bar for extra training intensity.
Heavy Duty Power Rackfitted with "spotting arms" (safeties) and commercial grade J-Hooks which are quick and easy to remove and adjust. Both J-Hooks and "Spotting" arms have 8mm thick nylon stripes to prevent metal-to-metal contact and complete with safety pins.
Extreme Core Trainer, fits both Olympic and regular size bars. This is a great way for the personal fitness trainer or elite sports persons to train the core with Power, Anti Rotation and Rotation movements.
Multi Grip Chin Up Barhas 5 handgrips to suit long and short arm spans and to give a variety of grips.
Weight Plate Storage horns,the 2 horns are made from High-grade nylon and placed at the rear of the unit to hold your weight plates when not in use.
Attachment Storage for handles, harness, dipping grips and spotter arms all of which are included with our XR20
Fixing Ring for etc is front and centre and offers a great fixing point for a variety of training tools.
Compact Footprint. Even with all of its features and all the functions it can achieve, it still only occupies; 1865mm (width) x 1560m (Depth) x 2160mm (height).