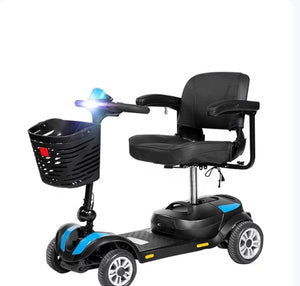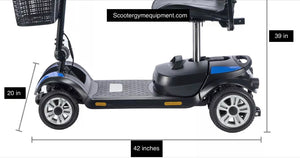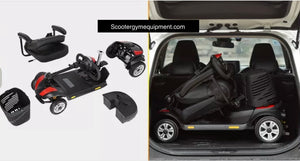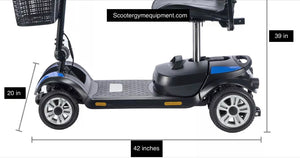 4 Wheel Portable Mobility Scooter
ASK ABOUT OUR IN STORE PICK-UP DISCOUNT!
This Mobility Scooter breaks down into 4 pieces!
The 4 wheel portable mobility scooter is the perfect solution for individuals who desire independence and mobility. With its compact design, it can be easily dismantled into four pieces, making it easier to transport and store. The scooter has a maximum speed of up to 5 miles per hour and can travel up to 12 miles on a single charge, thanks to its powerful 250-watt motor and 24-volt 12AH lithium battery. The front wheel is 7.5 inches, while the rear wheel is 8.5 inches, providing stability and safety on any terrain. With a weight capacity of up to 330 lbs, this mobility scooter is perfect for individuals with different body sizes. The seat dimensions are 18 inches high, 16.5 inches wide, and 15 inches deep, providing comfort and support while traveling. Whether you are running errands or exploring the outdoors, the 4 wheel portable mobility scooter is an excellent investment for anyone seeking greater independence and mobility.

Material: strong iron and plastic
Motor: 24v/250w Brush Motor
Battery: 24v 12AH Lithium Battery
Seat Dimensions: 18 h x 16.5 w x 15 d
Ground clearance: 2 inches
Weight Capacity: 330lbs
Max speed: 5
Travel distance: 12 mileS
Front/Rear Wheel: 7.5 inch/8.5 inch
Colors available: Blue and Red