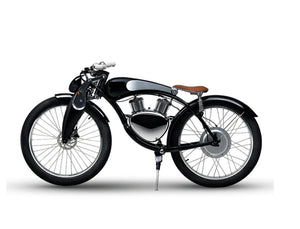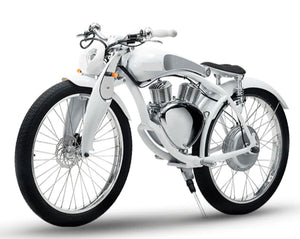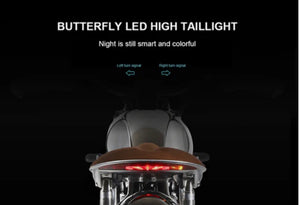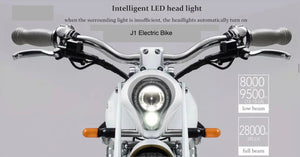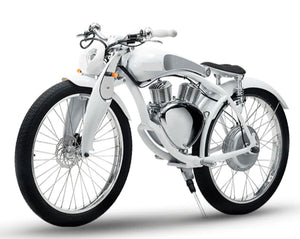 M1 Retro Electric Bike Max Speed 30 MPH
IN STORE PICK ONLY
The M-1  Retro E-Bike is inspired by the first motorcycles dating back to the early 1900s, as well as the Californian beach culture of the '60s. This vintage motorcycle styling blends seamlessly with the latest engine and battery technology to create a fusion of retro and modern. With its rounded frame, high elongated handlebars, and low seating position, you'll feel like you're riding a motorcycle.
This bike comes with two-speed options, the low-speed mode has a limit speed of 20 mph, which allows you to use it on public roads, and go back to race mode at 30 MPH on private land, to feel the power of this bike!
With the 400W powerful electric motor and 11.6 Ah lithium battery, you can go around 30 miles per charge.
A unique retro electric bike design that impresses every passerby.
The battery recharges while braking to optimize range and efficiency.
Anti-theft functions such as motor lock at the push of a button, get the full protection of your private property.
Equipped with pedals ( without pedal assist mode).
Bluetooth connectivity to your smartphone to check functions such as speed, battery, etc.
Components:
Battery
The single battery is made up of 104 Samsung 18650 lithium cells, arranged in parallel and in series.
Electric motor
The Rear Hub Motor is by far one of the most advanced power units on the market.
Handlebar
The retro-style electric bikes mean a low seating position and high handlebars. This gives the bike a cool look both standing and riding, as the higher handlebars give a unique seating position. With leather grips, the handlebar looks a lot like that of a chopper motorcycle.
Lights
The retro e-bike has an optional lighting system, matching retro styling, with an extra-large headlight. This large headlight was designed on the model of motorcycle headlights. The Munro lighting system is not only functional, but it also adds a lot to the motorcycle-style design and provides the finishing touch.
Specifications:
The size of the Retro Electric Bike:
Length 1850mm
Height 950mm
Front track / This Fashion Electric Bicycle width 630mm
Wheelbase 1125mm
Ground clearance 260mm
Main Performance Quality 42kg
Rated voltage 48V
The maximum load quality is 100KG±1%
Gradeability (load 80KG) ≤15°
Frame:
Frame Design Aluminum Alloy
Maximum design speed Low speed: ≤20km/h
High speed: ≤50km/h
Braking distance (dry land) ≤1m (20km/h)
Braking distance (wetland) ≤1.5m (20km/h)
Front shock absorber Adjustable mid-spring shock absorber
Rear shock absorber Adjustable spring shock absorber
Fork Aluminum Alloy
Rear flat fork
Front tire specifications 26 inch X 3.0
Rear tire size 26″ X 3.0
Front & Rear brake: hydraulic disc brakes
Seat height 810mm
Maximum roll angle Left ≤40°
Right ≤40°
Maximum steering angle 30°
Battery System:
Battery Type 18650 Lithium-ion Battery
Voltage 48V
Capacity 11.6AH
Standard charge current 3A
The maximum discharge current 10A
Standard charging time: 6H
The maximum mileage 50KM
Single-cell capacity 2900mah
Battery Weight 3.1kg
Charge and discharge times 2000 (80% DOD)
Protection System 13S/17A Same Port
Battery compartment cover material Flame retardant ABS
Power System:
Hub Motor Type: Brushless DC High Magneto
Controller: FOC Vector Controller
Rated power and speed: 400W/430rpm
Maximum motor power and speed: 800W/430rpm
Torque and speed of motor: 42N.m/40rpm
Max Recoverable Energy Level: III 82%
Controller maximum current 17±1A
Motor Energy Utilization 82%
Lighting Electrical Headlamps, Headlights LED Headlights
Daytime running light LED light
Turn lights LED turn lights
USB charging port
GPS positioning system
Remote Control Match Mobile APP, Positioning Car, Locking Car
Smart Meter LED Display